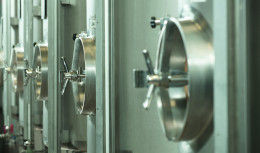 The unaudited turnover of the Company in the first half of 2017 reached 36 million euro, which is 3.1% more than in the first half of Year 2016. Increase in turnover was mainly achieved by increase of orders from our biggest Private Label customer SPI Cyprus, although the overall profitability level is lower than selling Latvijas Balzams brands. Additional positive effect on turnover come from increased level of warehouse and logistics services provided to both 3rd part and Group companies.
From beginning of 2016, the Company is providing a number of warehouse and logistics services, mostly to beverage companies – like transit assurance services, bonded warehouse services, 3-rd party logistic services, value added services, picking, etc. Actions taken, has allowed to utilize the available resources and assets in more efficient way. Latvijas balzams AS has been performing as European hub for group distributed brands in Europe, including Scandinavia and Russia (KAH, Bayou, Arinzano, Achaval Ferrer).
The unaudited profit for the reporting period reached 2.52 million euro that represents 13% decrease versus the first half of 2016, mainly due to the fact that 2016 numbers include income from one–off transactions like compensation received from insurance company for fire case in 2014 in amount of 280 thousand EUR and profit from sale of real estate in amount of 594 thousand EUR.
Latvijas balzams AS is the leading producer of alcoholic beverages in Latvia, as well as one of the largest local taxpayers. During the reporting period, the Company paid 26.9 million euro to the state budget, including excise tax, amounting to 21 million euro.
More.