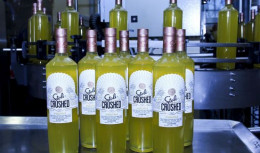 Stoli® Vodka is expanding its portfolio with Stoli Crushed® – made with real fruit juice.The initial flavors are Pineapple and Ruby Red Grapefruit.
Stoli Crushed® is distilled and blended at the Latvijas balzams (LB) distillery along with Stoli's® entire range of vodkas. Our technologists admit that it is a new and unique experience for LB team.
Stoli® claims it is the "first premium imported vodka brand to enter the fast growing 'real fruit juice' spirits segment." Stoli Crushed® will begin its national rollout at retailers in May 2017. The vodkas can be enjoyed on the rocks or with club soda.
"The real fruit juice category is on the verge of explosive growth as consumers today are craving easy-to-mix spirits and real flavors," says Patrick Piana, President and CEO, Stoli Group USA, in a press release.
Made from naturally gluten-free ingredients – including corn and buckwheat – and blended with real fruit juice, Stoli Crushed® expands on Stoli® Gluten Free, which was introduced in April 2016.
Stoli Crushed® is 30% ABV and for a suggested retail price of $16.99 per 750-ml. bottle.