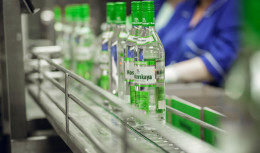 Central export markets for the products have not changed – the United States, Italy, Spain, the UK, Canada and Greece.
"Stolichnaya®" and 'Moskovskaya®" brand beverages have not been sold in the Benelux countries since 2015, and in provisional terms the court ruling would affect a very small part of our business, maybe just 1% or so of output," says 'Latvijas Balzams' board chairman Intars Geidans.  "For that reason, the ruling will not affect 'Latvijas Balzams' operations.  We'll follow along with the further development of the case, and the 'SPI Group' will appeal the ruling before the Dutch Supreme Court."
As has been reported in the past, there has been a dispute for several years now between the Russian state-owned 'Soyuzplodoimport' company and the 'SPI Group', which includes the 'Amber Beverage Group' in Latvia. That, in turn, is the leading shareholder in the 'Latvijas Balzams' joint stock company. Over the course of 13 years of court proceedings, the companies have proven unable to divide up rights to the vodka trademarks.
'Latvijas Balzams' wishes to point out once again that the ruling of the court at the Hague only applies to the sale of 'Stolichnaya®', 'Stoli®' and 'Moskovskaya®' brand beverages in the Benelux countries.  Apart from those three countries, the 'SPI Group' and its allies have registered trademarks in more than 180 countries.