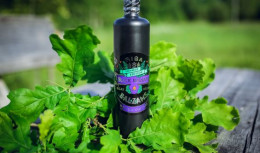 In anticipation of the Summer Solstice, 'Latvijas balzams' is launching a special summer series of 'Riga Black Balsam® Currant' – a limited batch of specially labeled bottles of the spirit for the Līgo celebration, featuring a bonfire as well as fern and oak groves. The Currant Balsam summer series in 0.7l volume bottles will be available on all sales networks in Latvia this week, for the same price as the original bottle.
The Latvia branch Brand manager Ģirts Liniņš ('Amber Distribution Latvia') says that the limited series drinks can vary both with the label (devoted to a particular event) as well as the taste nuances. This is one of the ways brands can be 'refreshed' and it's an opportunity to grab the consumer's attention.
'Riga Black Balsam® Currant' is produced by 'Latvijas balzams' since 2009, and it is no secret that, due to the strong taste of fresh berries, the Currant balsam (Lovingly nicknamed 'Upenīte' in Latvian), is the most popular drink in the balsam series in both local and export markets. More than 75% of the produced alcohol volume is sold in Latvia.